Posted by Thomas Guerin on March 01, 2012
0 Comments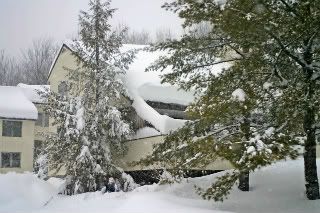 Catskill Mountain House for Sale
Here is the opportunity of a life time with your chance to purchase a turn key Catskill Mountain House in the Beautiful Catskill Mountains. We have owned this beautiful Catskill Mountain House in the mountain top community of Roxbury Run located in Denver, New York for over 10 awesome years. My children learned to swim, ski, ride a river tube, mountain bike, hike, fish, visit dozens of museums and local points of interest and also just how to relax and escape the hustle and bustle of the New York City Area. If you are a family or couple looking for a place to escape, but do not have the time to worry about shoveling snow, painting the deck or replacing a leaky roof, this Catskill Mountain Home is for you. The beautiful community of Roxbury Run provides all outside maintenance and even offers a winter watch to insure your pipes don't freeze and the heat is turned on when you arrive on a Friday evening for an exciting winter weekend.
Catskill Mountain House: The Features:
Home is for sale with all beautiful and timeless log furniture
Three bedrooms and two bathrooms that sleeps 10 (Bunk room, 2 queen beds and a queen size day bed in family room)
Beautiful Deck with patio furniture
Beautiful views
Floor to ceiling Field Stone Fireplace
Captain's Kitchen
All newer appliances
Catskill Mountain House For Sale
Catskill Mountain House: The Community
The community of Roxbury Run was built on a mountain top in the Seventies and every year since its creation, the community has put an emphasis on its landscaping resulting in picturesque views and Norman Rockwell photos throughout the community. The community offers:
Olympic Sized Heated Swimming Pool Overlooking the surrounding mountains and valleys
Four Clay Tennis Courts
Club House for Meetings and Parties
Top Notch Maintenance Staff
Walking/Hiking Trails on Premisis
Playground
Dog Run
Catskill Mountain House: The Area
The Catskill Mountain House is located in Delaware County, which is considered the western Catskills. This area of the Catskills is a hidden gem because the majority of the land is made up of Catskill Park forever preserved and thousands of acres controlled by the city of New York to protect its reservoirs and water supply. How does this benefit our Catskill Mountain House? Peace and solitude. No big crowds or rowdy twenty somethings like the hunter Mountain area of the Catskills, but close enough to the popular areas of Woodstock, Monticello, Hunter and Windham Mountains. Delaware County is highlighted by quaint villages of Margaretville, Fleishmans, Arkville, Roxbury, Andes and many more. These small towns bring you back to a simpler life. Owning the Catskill Mountain House will give you access to beautiful rivers (Eosopus and East Branch of the Delaware River among many) and resevoirs for fishing and boating, incredible hiking trails throughout the Catskill Park and surrounding mountains and great skiing at Plattekill Mountain and Belleayre Mountain with Hunter and Windham a little further drive away. We have tubed the local creeks and sledded the surrounding mountains and farm fields. We attended hundreds of street fairs, carnivals, celebrations and the best county fairs ever. The Catskill Mountain House gives you access to an antique train line and local farm tours and produce for sale that you won't find anywhere else. You and your children will meet down to earth people living and working in the Catskills that you won't find on Madison Avenue of NYC!
Catskill Mountain House: A Summary,
For our family, it is a time to move to new adventures, but for yours, the Catskill Mountain House gives you an awesome opportunity to experience the great outdoors of the Catskills. Every child should experience what my children were fortunate enough to enjoy for over ten years! The Catskill Mountain House will give you and your family a chance to play, laugh, enjoy and even cry at the beauty of the glorious Catskills. This turn key Catskill Mountain House gives you the chance to buy a property at a very reasonable price and with everything needed included, you can begin your family adventures the very first weekend you move in!